HoopGurlz At Phila. Front Page News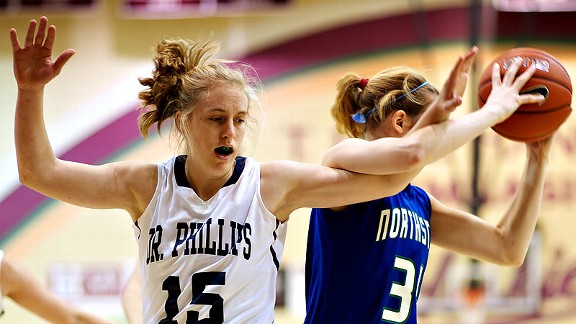 Sunshine Statement
Hannah Schaible and her Dr. Phillips (Orlando, Fla.) teammates prevailed in the battle of the Sunshine State's two nationally ranked teams, shaking up the rankings once again.
POWERADE FAB 50 Rankings: Week 8
For teams navigating rankings, the experience can be like playing musical chairs. Sometimes the chair next to you is empty when the music stops. Sometimes it's occupied.
And so it goes with the POWERADE FAB 50.
At the time ranked No. 41, Dr. Phillips (Orlando, Fla.) last week bested the other nationally ranked team in the state of Florida, then No. 36 Edgewater (Orlando, Fla.), 75-68 behind 20 points and 12 assists from Sydnei McCaskill. The Panthers, who went 1-3 at the Nike Tournament of Champions, haven't lost to a local team since dropping a decision to Edgewater last January. This latest victory put Dr. Phillips on the rise, but only to No. 38 because it bumped up against Marion County (Lebanon, Ky.), which was on its way down after a loss to DuPont Manual (Louisville, Ky.) but owns a head-to-head victory over Dr. Phillips at the TOC.
On the other hand, No. 6 Windward (Los Angeles, Calif.) had what you'd call a "quality win" over No. 17 Long Beach (Calif.) Poly, but had nowhere to rise. Similarly, Poly had what could be characterized as a "quality loss" because the Jackrabbits swapped leads with Windward four times during the final 1:36 and Justyce Dawson had an open look at a game-winning three during the 56-55 decision. Everyone above Poly had their place, however, and the Jackrabbits are capped by No. 16 La Jolla (Calif.) Country Day, with which it has a season split but with La Jolla owning a more decisive victory on a neutral floor (Nike TOC).
Rankings Panel: Brandon Clay, Rebecca Gray, Chris Hansen, Keil Moore, Glenn Nelson.